A local company is selling what it claims is the first Instagram-activated vending machine.
West Carrollton-based Innovative Vending Solutions — a developer of tech-focused automated retail machines — is counting on the social media platform's millions of daily users to drive big sales. Also known as IVS, the company's social media vending machines offer organizations a cool way of interacting with customers and fans at tradeshows and other events.
Attendees are encouraged to share information about brands on social media and use specific hashtags to receive merchandise from the machines.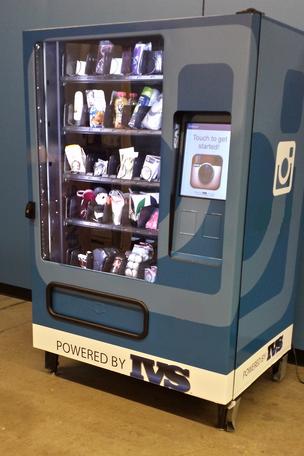 Here's an example of how it works: A Twitter-activated IVS machine was recently set up in New York where 100 consumers received free running gear after tweeting a specific message. According to AdWeek.com, the one-day giveaway generated 183,000 impressions and 15,000 engagements from tweets either mentioning the brand or the specific hashtags.
The new Instagram-activated kiosks, like all of the IVS machines, can be custom built for each client's needs. IVS, which rents and sells the machines, is now working on bringing the first-ever Facebook 'like' application to its lineup.
The company, launched in 2008 by Patrick McDonald and Jeff Thibodeau, has grown to a staff of about two dozen, a combination of employees and contractors.