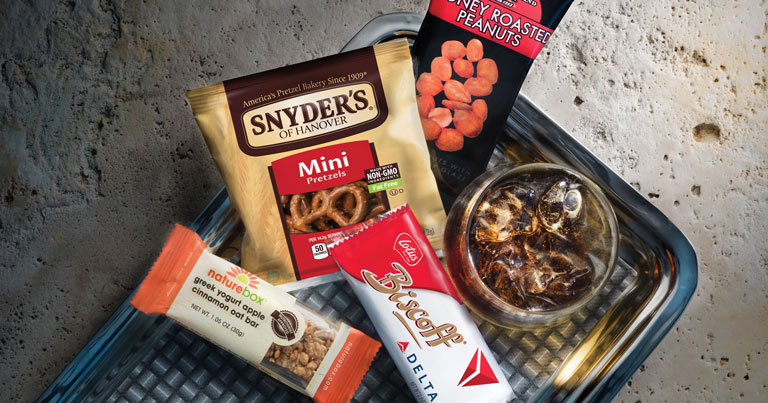 After decades of service, Delta Air Lines-branded peanuts and pretzels are stepping down as the airline's main cabin snack offering. With those snacks' retirement set for 14 December Delta is unveiling its improved onboard lineup including Snyder's of Hanover pretzels, Squirrel Brand Honey Roasted peanuts and NatureBox Apple Cinnamon Yogurt Bars. However, the airline's beloved signature Biscoff cookies will remain in service.
The enhancement will feature larger portions and more variety for customers while supporting Delta's mission of continuing to invest in the overall on-board experience. The airline will also refresh its main cabin snacks more frequently in the future based on direct customer feedback. The upgraded snacks are a result of positive customer and employee feedback as the branded snacks and larger portions were tested earlier this year.
"We know our customers love pretzels and nuts, but we also know they crave more choices and larger portions which is why we're upgrading their snacking options on board," said Allison Ausband, Delta's Senior Vice President – In-Flight Service. "Nearly all of Delta's 180 million customers enjoy our snack offerings each year, which is why, in the future, we're also going to look at ways to let them help choose our next lineup."
The complimentary snacks will be available in the main cabin on flights over 250 miles. Customers on shorter flights within North America – from 251 to 599 miles – will now receive a choice of Biscoff cookies or Snyder's of Hanover® pretzels, whereas customers were only offered one choice previously. Flights over 600 miles will now offer four choices, instead of three, offering Snyder's of Hanover® pretzels, Squirrel Brand Honey Roasted peanuts, a NatureBox Apple Cinnamon Yogurt Bar or Biscoff cookies.
Additionally, customers on international flights will receive a choice of Snyder's of Hanover® pretzels or Squirrel Brand Honey Roasted peanuts.
To celebrate the new snacks, Delta has set up branded vending machines in Los Angeles, Seattle and New York to offer complimentary samples to customers.
Since the 1940s, Delta has offered complimentary snacks on board starting with peanuts, later adding pretzels and Biscoff cookies in the late 1980s and early 1990s.